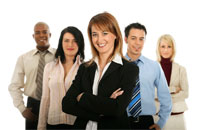 Established in 1990,

Jining YunHe Fine Abrasives Co. Ltd.

is one of the important enterprises of Jining Carbon Group. Its property is 56 million, among this fixed assets 28 million. There are 130 employees, among this 40 technical personnel. It is a professional manufacturer which assembles smelt, well-chosen, granulation and mechanisation into one whole in Luxi District.



At present Yunhe has two smelting electric arc furnaces(1200KVA) and three production lines which are well-chosen, granulation and mechanisation. Yunhe adopted the most advanced technologies that are sifting, granularity dressing and high strength magnetic separation. The annual output of white fused alumina is 8000 ton£¨WA6# £­180#£©, pink fused alumina 3000 ton, zirconia alumina 1000 ton.

Yunhe has precise analyzer and perfect testing means. The registered trademark is ¡° Yuyue¡±. The main index of white fused alumina are (AL2O3¡Ý99.14%£¬Na2O¡Ü0.26%,Fe2O3¡Ü0.10%,SiO2¡Ü0.20%,Alexa minus¡Ü0.30£©Its characteristics are even grain and high strength machine. It is widely used in abrasivs, grinding, refractory, machine processing, etc. All the products quality meet GB2479-1996 standard. Yunhe obtained the certification of ISO9002 product quality in 26th June, 1997. It is the first manufacturer that gained this certification. It obtained the certification of Quality System Certification Center of China Metallurgy Industry. The products are sold in every province, autonomous region and municipality and Angang Steel, Wuhan Iron and Steel, Bao Steel, Shou Steel, etc. Moreover, exported in Japan, USA, Korea and South East Asian, Taiwan. The products are popular among people.

The director-Tan Zhifeng warmly welcomes the friends from various social sectors to negotiate business and create a brilliant future!